alphabetic index
categories
search
library
library charges
main index
contact us
---
The Sunrise software
---
We have our own proprietary software which calculates the time and azimuth of sunrise and sunset for anywhere in the world.
The single-page printout shows the following:
Start of Civil Twilight
Sunrise Time
Sunrise Azimuth
Daylight hours
Sunset Time
Sunset Azimuth
End of Civil Twilight
Moon Phase
The printout also shows a Solar Location Diagram, which can be used to work out where the sun will be in the sky at any given time during the day: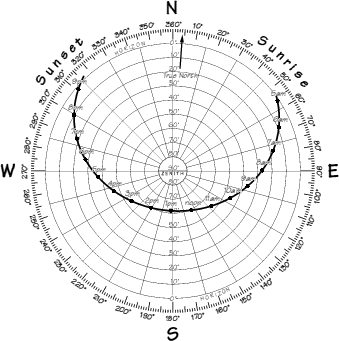 These figures, and the azimuths supplied, already take into account the Magnetic Declination, i.e. the difference between Magnetic North and True North.
Location Works provides a one-week Sunrise/Sunset prediction - for any location on Earth - as a free service (for the moment!). Supply the longitude and latitude of your location, the week, and the time zone, and give us a ring. We can give you the results over the telephone or by fax.
The chart is also available via the internet (this is not yet an automated service).
---
Examples:
---