We must have pictures! No amount of description can "sell" your property. Our clients visit our web site needing to see what your location looks like.
We don't necessarily expect professional quality photographs, but the pictures must be good. A film company or photographer is often working to a deadline: if it comes to a choice between locations, it may well be the quality of the images that decides one over the other. Dark or fuzzy pictures will frustrate rather than entice; a picture of a favourite vase does not impart the quality of the room it's in.
So what to do? Modern digital cameras, used with a little care, can provide excellent results. Here's a few pointers:
:: set the camera for 'medium' or 'large'
Please supply pictures which are at least 1200 pixels wide. (Please note! We no longer accept anything other than digital images.)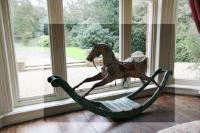 :: wide angle lenses
Used carefully, a wide angle lens can show much more of a room than a normal lens. But there are dangers:
:: a small room can be made to appear much larger than it really is;
:: the image can look distorted.
To avoid distortion, shoot with a standard lens whenever possible, moving the camera further back to get the same view. When using a wide angle lens, ensure that the camera angle is level (i.e. horizontal) so that the verticals appear upright through the viewfinder.
:: hold the camera steady
If you can't use a tripod, use a monopod. If you can't use a monopod, hold the camera as steadily as you can, in order to get the sharpest pictures.
:: use available light
Always photograph interiors in daylight, and try to avoid using a flash. The light coming in the window is the best light possible, and your pictures will most closely resemble what the eye can see.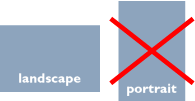 :: shoot "landscape"
All of television and film, and the majority of stills photography, is shot using a 'landscape' format - avoid shooting 'portrait'.
:: no snow!
No matter how beautiful your house or garden appeared in last winter's snow, you cannot reasonably expect a film-maker or photographer to turn up and expect to find the same scenes; in fact, we usually discard snowscapes (and Christmas interiors). By all means photograph your garden when the leaves have all gone, but it would be preferable to use pictures of the exterior in spring or summer (and the interiors after the Xmas tree has gone!)
:: what to shoot
The pictures that end up on our web site will tell a story: as though we are being welcomed into your home:
:: first pictures are of the exterior as though we have just arrived (first impressions - from the street, garden path, front door);
:: we are then welcomed in to the premises (downstairs hall);
:: offered a cup of tea (living/sitting room);
:: then shown around (dining room, TV lounge, kitchen);
:: taken upstairs (bedrooms, bathroom, study, gym);
:: and finally the garden (patio, summerhouse).
Although you may not necessarily be taking the pictures in this order, this is how they will be presented in the web library.